After testing our first Polish dishes on Paris MyPierogis, we started looking for other restaurants of this kind, to compare, but above all to have fun. That's how we came across "Mazurka", a cosy restaurant located at the foot of Montmartre, a stone's throw from the Basilica of the Sacred Heart.
The website, which displays only one page (http://mazurka.fr/), indicates that it reopened in October 2016 following a lot of work. After some research, I discovered that it has existed since 1985 and is therefore well established in the area.
Mazurka closing its doors at lunchtime during the week (except on Fridays), we decided to eat there in the evening. It is at this time of day that it reveals its intimate atmosphere, with its dimmed light and candles decorating most tables. This is a perfect place for a romantic dinner, but not only. The atmosphere is warm and the Slavic music played there makes you feel good.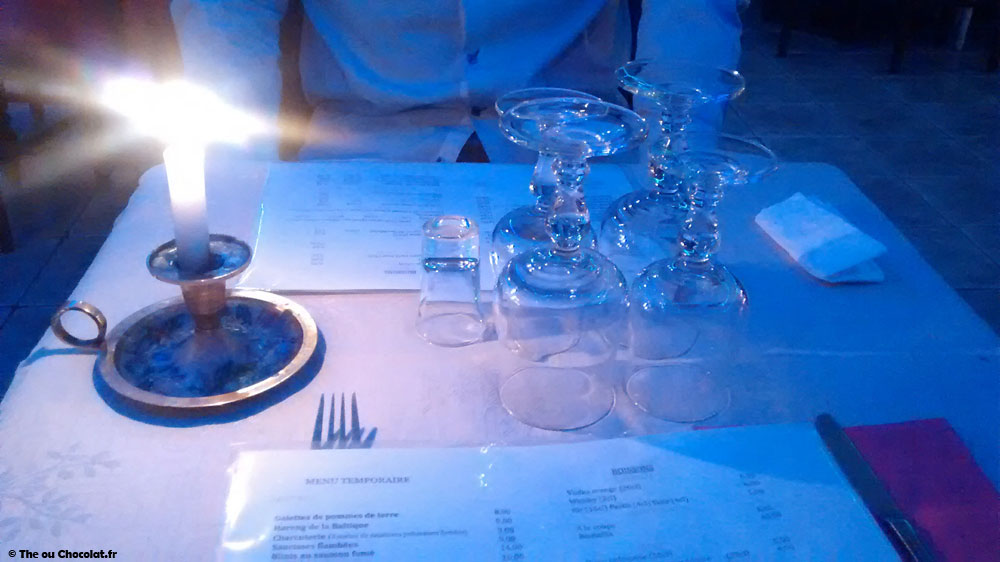 Only one small regret, having arrived a little too early we did not have the right to the animation "live concert" organized regularly by the owner of the restaurant. No regret, it will be the excuse to go back and check it out by ourselves 😀 (and update the article accordingly).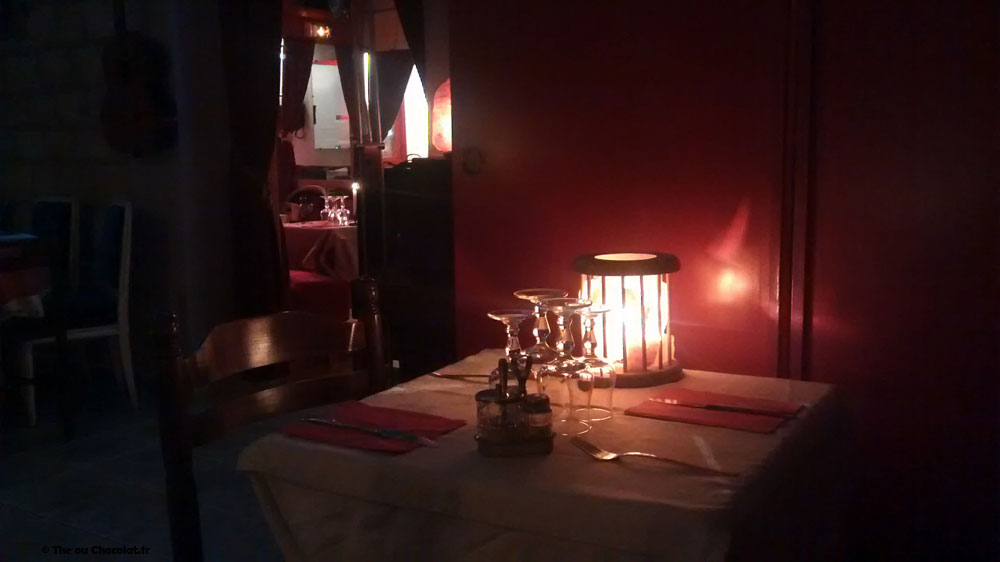 The setting is nice, the music is good, the service is good, but the dishes in all this?
Well, we're lucky because we hit the nail on the head again. The cuisine on offer is mainly of Polish origin, but you will also find Russian cuisine (strogonoff beef, etc.).
My opinion on Mazurka's Pierogis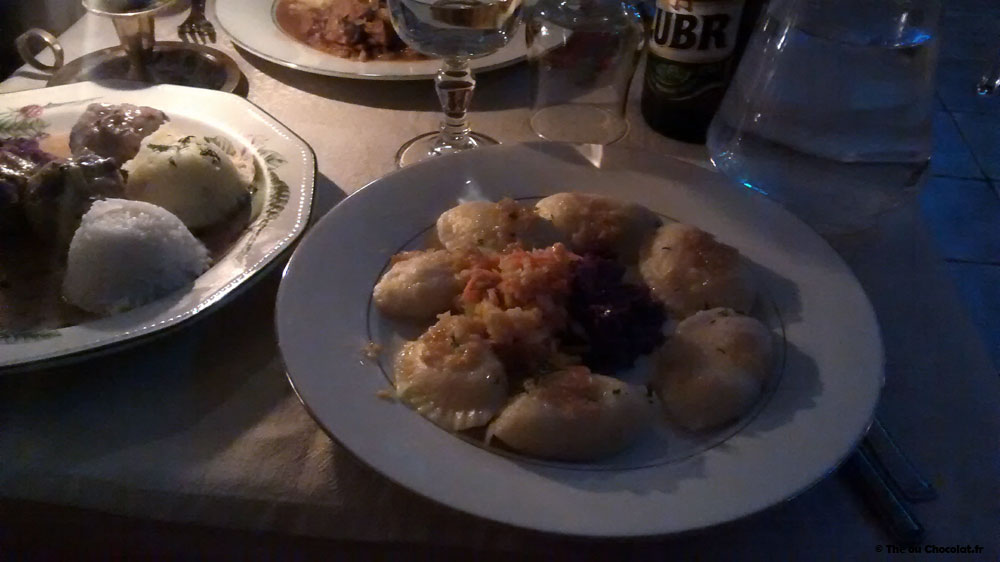 I consider this dish as a reference indicator. If the pierogis are good, fresh and tender then you have a good chance of being in a real Polish restaurant. And here it is! You will therefore not have any unpleasant surprises unlike other restaurants in Montmartre which do not hesitate to offer you dishes heated in the microwave….
Note from Coralie: I prefer to point out that Polish cuisine is sometimes very peppery, and this is the case in these pierogis. Next time, I'll ask if it's possible without pepper because I prefer it. On the other hand, their Schabowy kotlet is excellent and unpeppered.
My opinion on Meatballs with mushroom sauce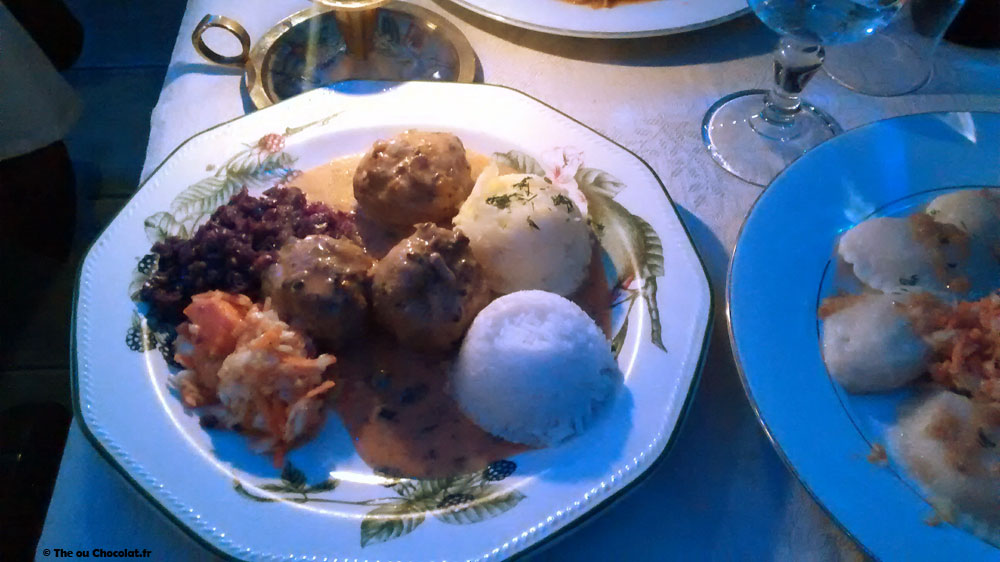 To complement my traditional bigos, I opted for this dish. At first glance, one could say that they are simple meatballs with no flavour. Well, that's not the case. They taste great and the mushroom sauce that goes with them is a delight.
In Polish cuisine, you will often find a starch-based side dish (potato, rice) and surowka, made up of grated cabbage and beetroot.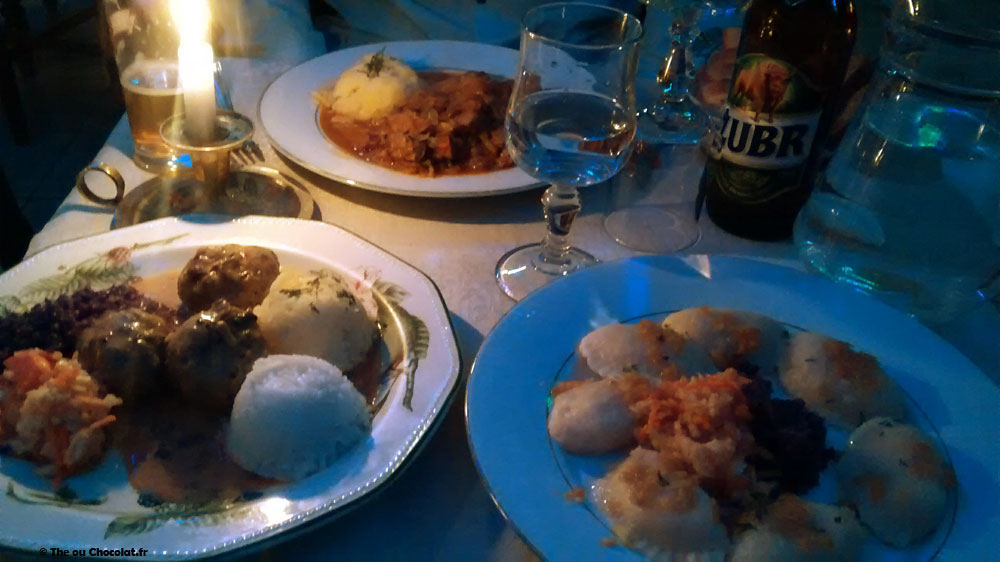 Drinks
The menu offers a variety of fairly classic drinks such as wine and champagne. Personally, I prefer to accompany this type of dish with a good beer, and that's what I did here when I chose the Zubr. You won't be out of place much, she's a bit of a all-rounder.
Desserts
In general, we decide to take a dessert to complete a meal, and/or for pleasure/gourmandise:-D. The "problem" is that once our hearty dishes were finished, we simply didn't have the physical space to put a dessert in our stomachs: -D. It will be for another time.
Conclusion
The Mazurka was a very pleasant surprise for us. You can smell the fresh homemade dishes and the price-quality ratio is quite correct and is much better than some other "catchy-tourist" restaurants in the area.